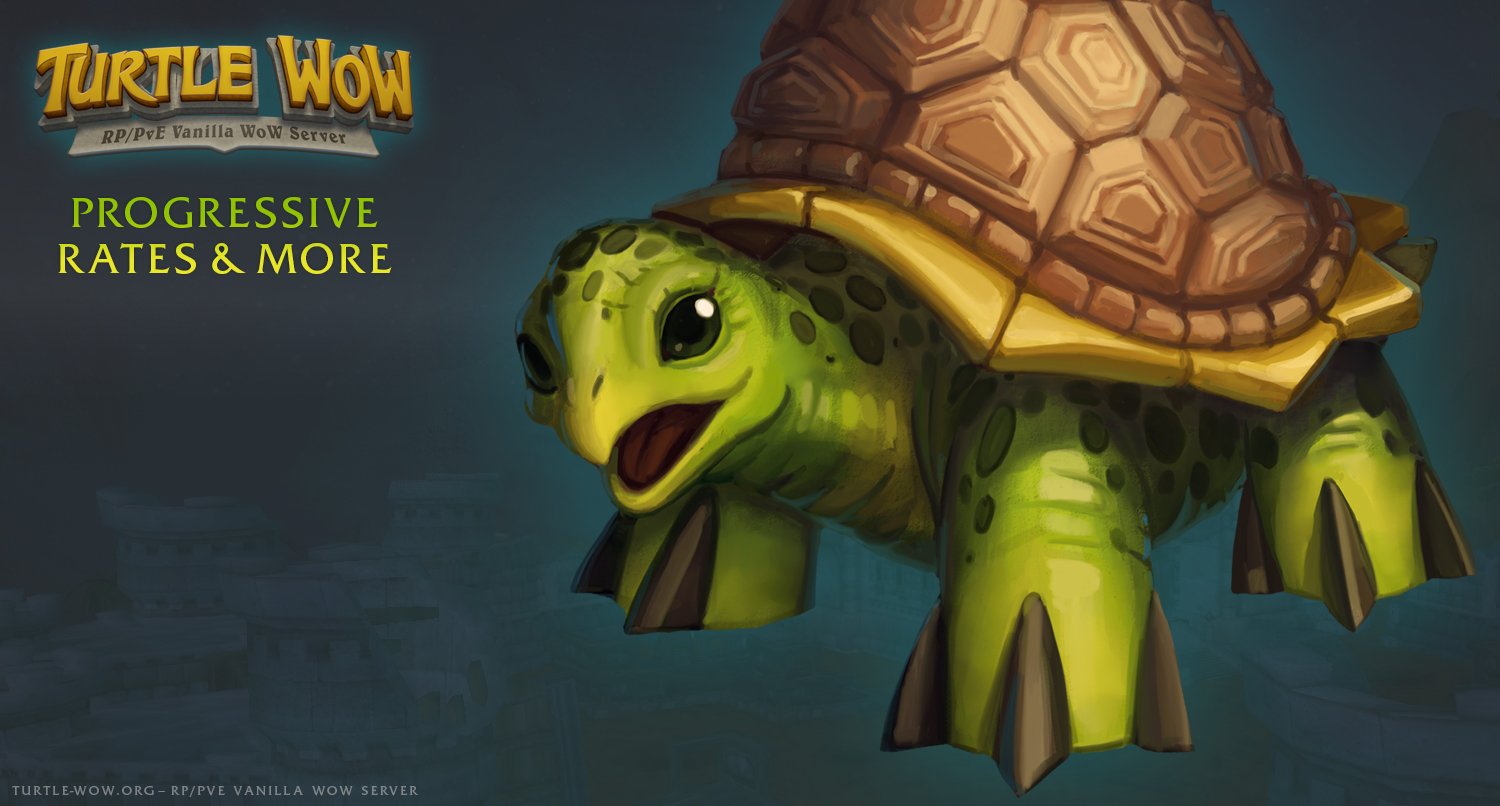 Greetings!
First off, thank you to everyone who participated in our gameplay experience survey. We're more than happy to see that you care and want this server to be a success; and many of you came up with great ideas!
Therefor, we will list a few upcoming changes:
Progressive Rates
We have developed a system to regulate the kill XP rates for level ranges where it's necessary, due to a lack of quests, such as 20-25, 40-42. This change will be deployed on Tuesday night.
The changes will be:
Normalization for Dungeons Rates
Will remain x1.0 for parties only to encourage players to group up and do dungeons.
Beginner's Guilds
In an effort to assist new players, the Turtle WoW team has decided to implement a new feature called "The Beginner's Guild".
This new feature will auto invite players into a guild, helping them easily find players who are also just starting out fresh. Once players reach level 15 they will be removed from the guild, and thrown back into the wild!
We hope this further strengthens the community, and helps make many new friends for your future adventures in Azeroth. Please, meet <Alliance Baby Turtles> and <Horde Hatchlings>!
Simpler Battleground Access
Speedy has stepped into the path of war and can now send you to the battlefield!
"I have HUGE, heavy balls and leveled up on 0.5 rates, what now?"
[DEPRECATED, CHECK BELOW] Answer: All current characters will receive a Turtle WoW Box in game with free Shell Shop Tokens, according to gathered levels. You can pick any mount, tabard, bag or any of our special rewards if you like!
50: 120 TT + ["I like it slow" Tabard] + Riding Skill
60: 250 TT + ["The Fastest Turtle on the Beach" Tabard] + Riding Skill
"I still want it slow!"
Answer: No worries! Speak to Speedy and get an item that will reduce your XP back to x0.5 (Hardcore mode).
If you stay at 0.5, you will still be able to receive the listed rewards for the next 2 weeks. The rewards will be changed once the 2 weeks has passed.
Choose wisely, as once you decide to level on lower rates, you will not be able to return to the higher rates.
We also will be sending mails to notify ex-players of these changes, and will invite them to back to Turtle WoW!
Thanks again for all of your input! Long live Turtle WoW!
Update (2 weeks later):
It has been 2 weeks since we first released our reward system for hardcode mode. As promised, rewards have now been changed. Here is a list of the new rewards you can claim for playing on hardcore mode:
Level 20:
Level 30:
Level 40:
Level 50:
Level 60:
Hardcore mode will now only be available up until level 10
. If you do not select it by this level, you will remain on normal mode without the option to change.
We hope you enjoy the new rewards.
We reserve the right to change rewards if we feel like we have something better to offer :)
Riding Skill will not return as hardcore reward.