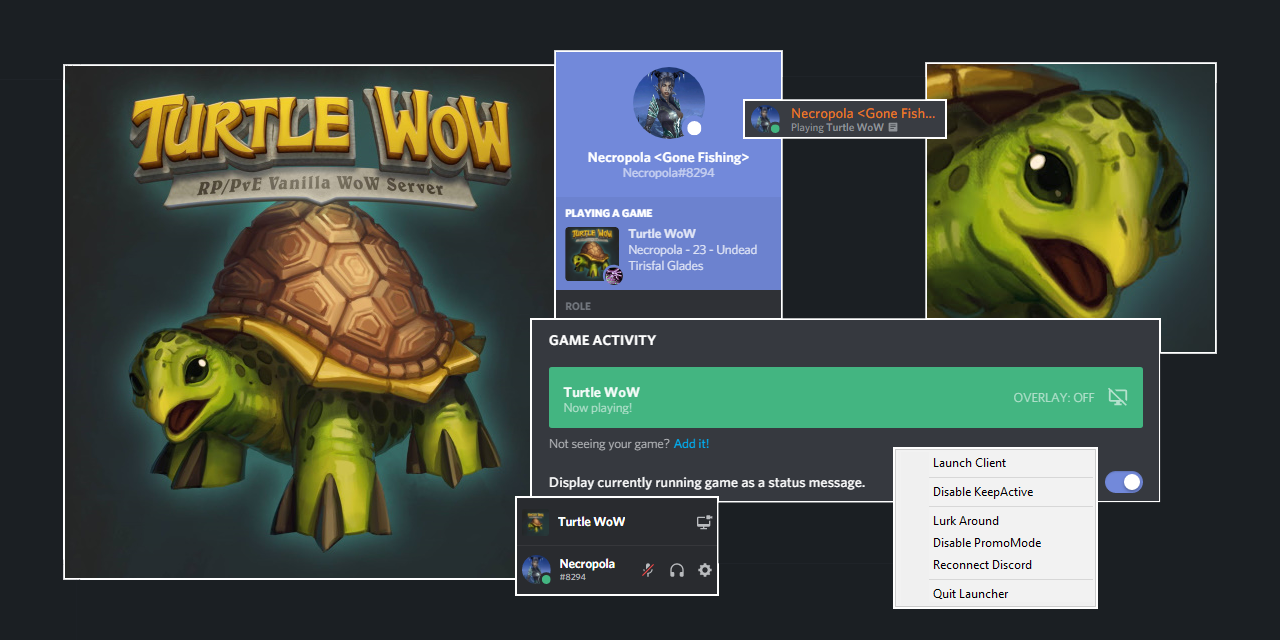 It all started with me getting a bit annoyed that the
Discord Client on Windows
does not detect the
Vanilla WoW Client
as a game. So in the
Member List
on the
Turtle WoW Discord Server
I could see who was playing
WoW Classic
(or other games), but I could not see who was playing
Vanilla WoW
or rather
Turtle WoW
.
I tried a few things with little success until I bumped into the
Golang package
rich-go
which seemed to be able to directly talk to the
Local Discord Client
and set a
Discord Activity
. This and the fact that I was looking for a nice pet project to improve my noobish golang programming skills got it really going.
Along the way I became even more ambitious and thought that it would be nice to not only see that someone is currently playing
Turtle WoW
, but also
on which character(s)
. So I came up with the idea of a
Web Service
running on the
Turtle WoW Realm Server
that would provide
JSON
formatted
CharInfo
for all characters currently logged on from the requesting IP address.
Long story short. Apart from the actual
Web Service
running on the
Realm Server
it's done. I have just released Version 1.0.0 which currently uses a little builtin web service to simulate the only missing part.
Happy Birthday, Turtle WoW!
42 days later ... almost nobody uses the Launcher ... and the few who do are running terribly outdated versions ... and still no ETA for the CharInfo web service on the realm server.
Download Turtle WoW Launcher (Version 1.2.6)
Download Vanilla Launcher with Custom FoV feature (Version 1.2.7)
(Turtle WoW branded via included config file Vanilla.cfg)
The current binary (
Vanilla.exe
from
Launcher-Binary-1.2.7.7z
) no longer has
Turtle WoW
specifics hardcoded into it, i. e. you will need to extract
both
files (
Vanilla.exe
and
Vanilla.cfg
) to your game client folder.
In case you want to check out the new
Custom FoV
(Field of View) feature you need to make a shortcut to the
Vanilla.exe
in your game folder and add the
-fov ...
switch, e. g.
Code: Select all
Target: "...\Vanilla.exe" -fov 1.925
which will change the default view angle of 90° to roughly 110° (similar to the WotLK client). Alternatively you can change the last setting in
Vanilla.cfg
from
to
The effect feels a bit like stepping outside to take in a breath of fresh air and you even seem to run faster (no kidding!). Please note that increasing FoV also increases the amount of stuff the client needs to render, i. e. it may have an impact on your frame rate.