I am sure I am not the first one to have this idea. After all in Warcraft 3 the Keeper of the Grove, a druid type of hero, was able to summon treants for a short amount of time.
But what if instead of an ability that temporarily gives you 3 treants you could just have a permanent pet?
I know it sounds weird but I actually tried to put some thought into this. It would need a talent unlock called "Treant Mastery" for example. And it has to be deep enough into the balance tree to have people who actually want to go boomkin go for it. I suggest Level 30 being the minimum level to unlock Treant mastery.
I was thinking of a selection of 3 possible treant varieties that could aid you in battle. One tank, one utility and one damage focused treant. But before I dive deeper into those varieties I want to answer a possible question. "
Why?
"
Well it is quite simple. Balance druids are, even with the changes made by turtle WoW, still kind of a meme spec. If you go for boomkin you are basically willingly going for a mediocre class spec just for the memes or because you just like being unique, idk. And if you decide to level as a balance druid you basically set yourself up for a slow and boring grind to 60.
Alright, here are my suggestions for the nature elemental companions you can have.
1. Tank variant
Model: Mirebeast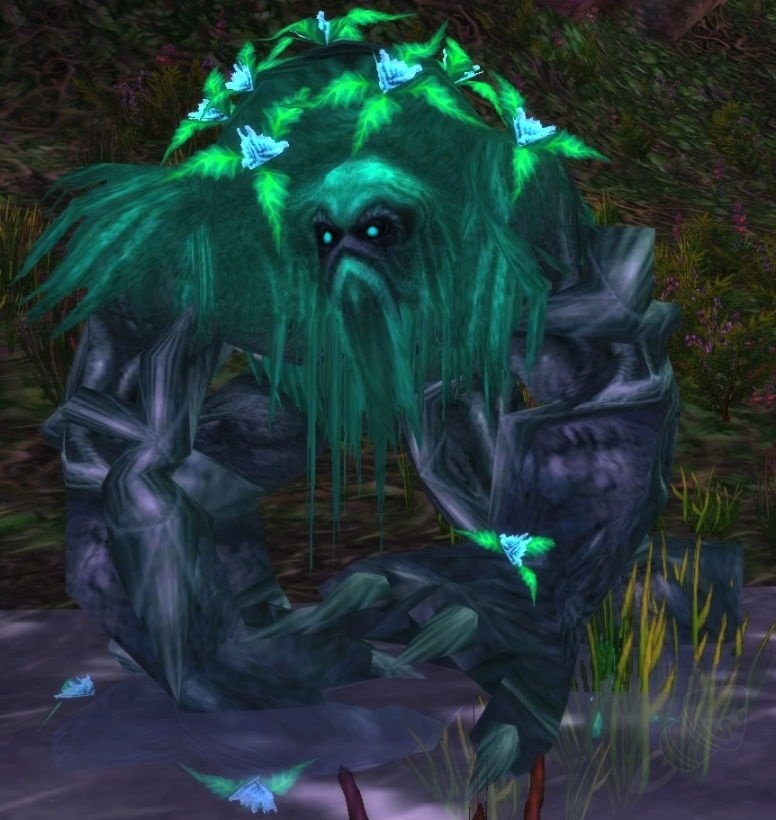 or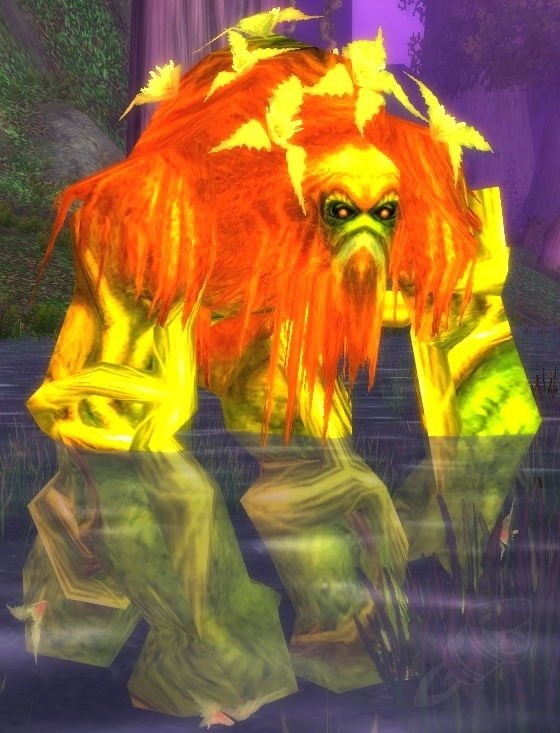 There are various color variants of those. I suggest maybe Horde and Alliance get different color summons here. Maybe the darker colored one for Night elves and the lighter colored ones for Tauren.
Abilities? Standard auto attacks, a damaging ability that generates threat and a special ability that lets it rapidly regenerate(with a big cooldown, like 5-10 mins) should do the trick for a tank pet.
I know I am not listing any numbers here on how much dmg they should do but I haven't thought that deeply about it.
2. Utility variant
Model: Treant(like the one from tree form)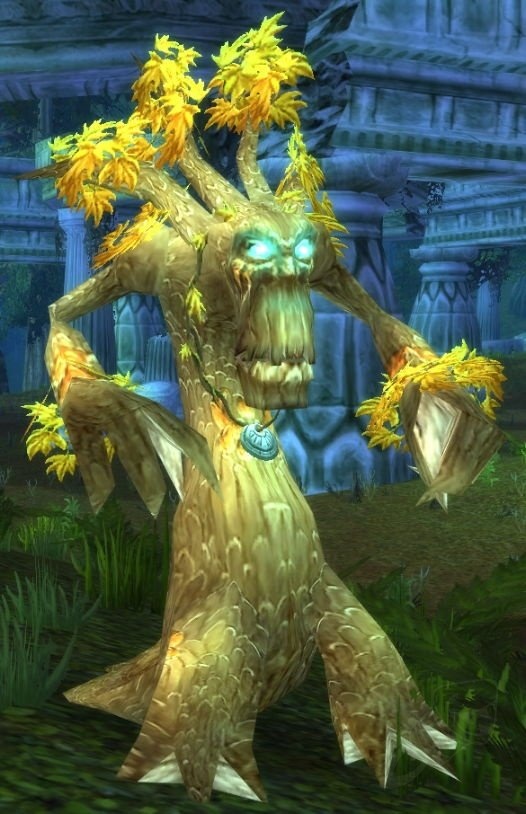 or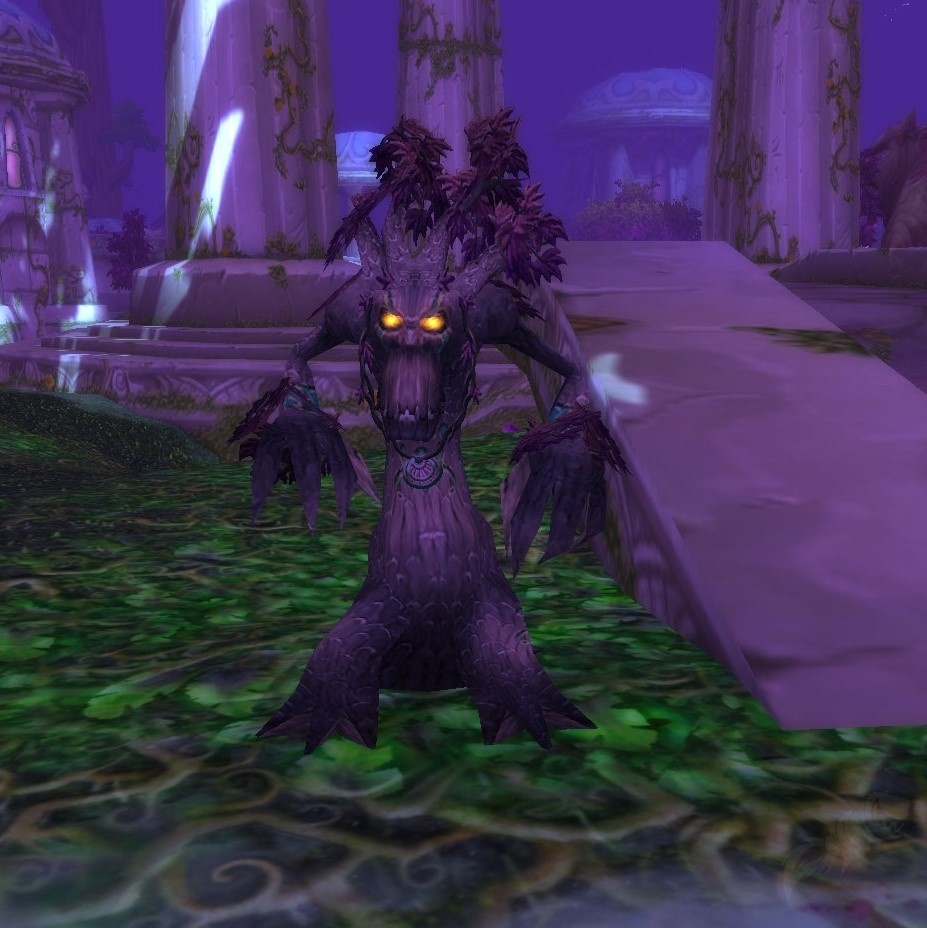 Again, 2 color variants for both alliance and horde to easily distinguish on the battlefield.
Abilities? Standard auto attacks, a debuff on target that makes druid dmging abilities on the target regenerate some mana and a special ability that slows an enemy for a few seconds but with a big cooldown. Again, I did not think about numbers here, that is something that can be discussed.
3. Damage dealing variant
Model: Lasher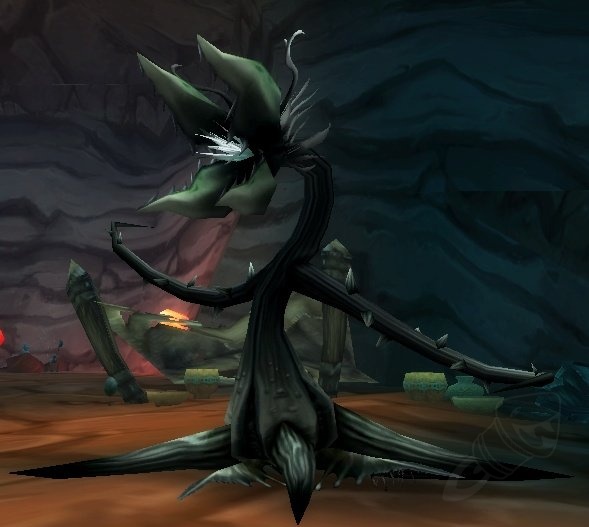 I didn't actually find proper models for the lasher but there definitely are some in the game that can be used.
So while I only have one variant here it is just to show what kind of mob I had in mind for the damage dealing variant.
Abilities? Standard auto attacks, lashing ability that causes a bleed and a special ability that increases its attack speed to deal good damage over a short period of time. Again I did not think about specific numbers. Also instead of the attack speed ability this treant might be able to interrupt spells or something by strangling the enemy? Open for suggestions here.
Anyway, I know its a rather big post. I hope some of you read it until the end and maybe discuss would could be better, how it would be viable or not. Maybe even have your own ideas on what other kind of things could be added. I would love to discuss this.
Thanks
Kaktus